LF- 100 GOLD™ LASER
UROLOGY Laser 100 watt
The UROLIGHT Side Firing Fiber Delivery System for Urology surgery provides urologists with the flexibility and tactile feel they need to accomplish TURP procedures with ease.
Our Urology Delivery System is specifically designed to provide Urologists with precise vaporization of lesions in the bladder while maintaining durability as a single-use and cost-effective tool.
LaserPowerTouch™ is our premiere Wavelength Conversion Technology™ which offers a multitude of crafted tip designs that enable the surgeon to treat ureteral, urethral, bladder, and penile lesions.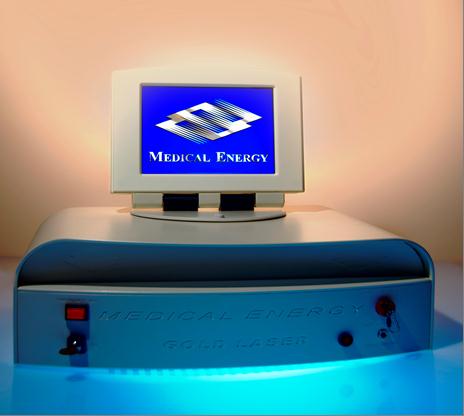 The LF-40  GOLD Laser System is the laser system of choice for pediatric neurosurgery applications such as tethered spinal cord release, lipomeningocele, lipomas, and VP shunt replacement.
Precise delivery of the GOLD Laser's™ energy through our Laser*PowerTouch™ fiber optic handpieces makes for an optimum surgical outcome.  Depth of thermal tissue penetration is limited to .3mm, which means very little damage to surrounding healthy tissue, minimal post-op  edema, and less post-op necrosis.
Hospitals across the world have selected the MEDICAL ENERGY, INC.LF-40 GOLD™ Laser for their operating rooms due to the multi-specialty applications of the system. Gynecologists, Urologists, Otolaryngologists, Head and Neck Surgeons, and General surgeons all rely on the GOLD Laser™ System for the same reasons…precise cutting, shallow depth of penetration into tissue, and excellent hemostasis. Hospital administrators appreciate the cost effectiveness and reliability of our technology… Please contact us for more information!